A versatile, modular display system to professionally showcase your products. The cube, floor and cover can be customised to match your brand, showroom and promotion. We also have a variety of accessories available, with EasyCubes® the options are endless!

Modular Product Display System
The award-winning EasyCubes® product display system is the simplest, quickest and easiest modular display system on the market. Take control of your product displays, showrooms and exhibitions and reduce cost significantly by re-branding and reusing the cubes time and time again.
EXCLUSIVE

to Innov8 Displays
Self build by virtually anyone in minutes NOT hours!
NO tools required for any parts
Easy and quick to assemble
Professional appearance at a fraction of the cost
Fully reconfigurable | Change the cubes to fit your requirements
Versatile | Suitable for retail, expos, counters, desks and more
Customisable | Fully wrap, brand or colour your display
Only 3 parts to make thousands of designs

Reconfigure Anytime
EasyCubes© can be constantly reconfigured and added to, the options are limitless! Instantly recongnise the value in a system that's modular, adaptable and visually stunning.
Easily change the cubes to fit your requirement
A system that grows with your needs
The Tetris of product display systems!
Modular, adaptable and visually stunning
User-Friendly System
Designing your product display has never been easier! EasyCubes© uses only three lightweight components, requires no tools and is easy and quick to assemble.
NO tools required
Easy and quick to assemble
Lightweight and extremely strong
Perfectly stackable for easy transport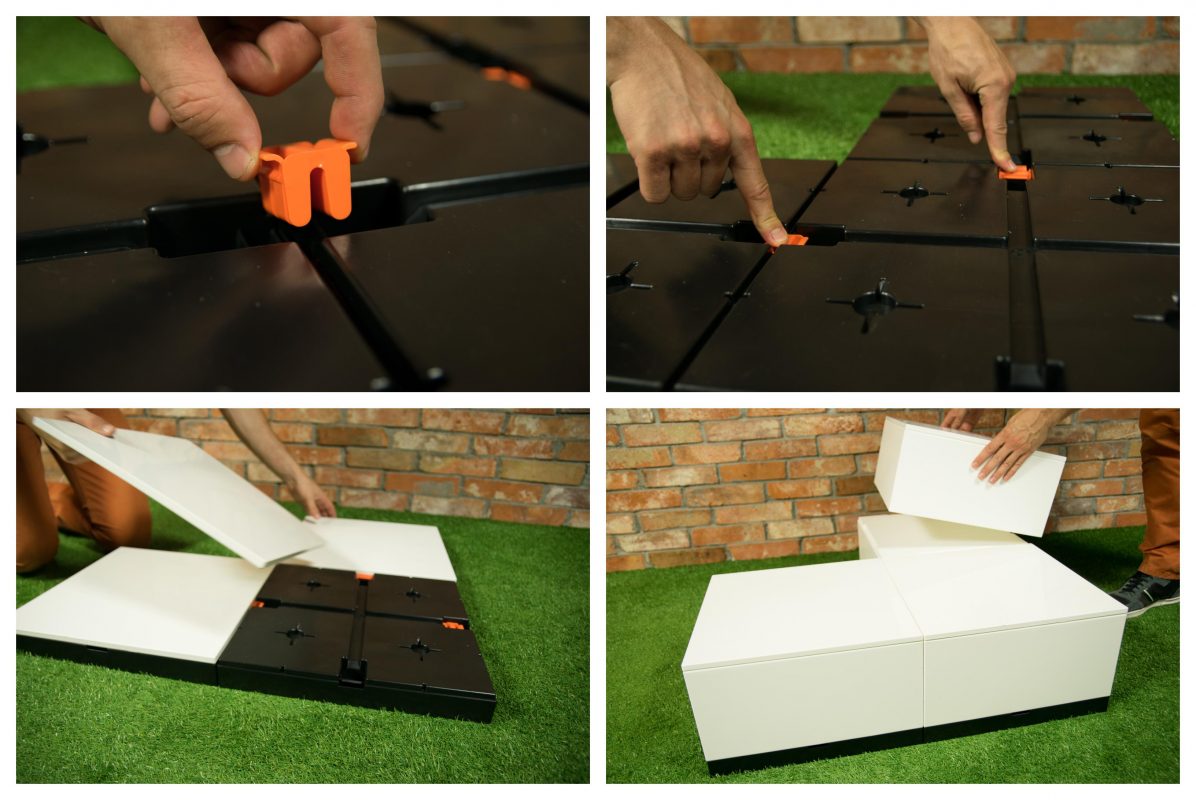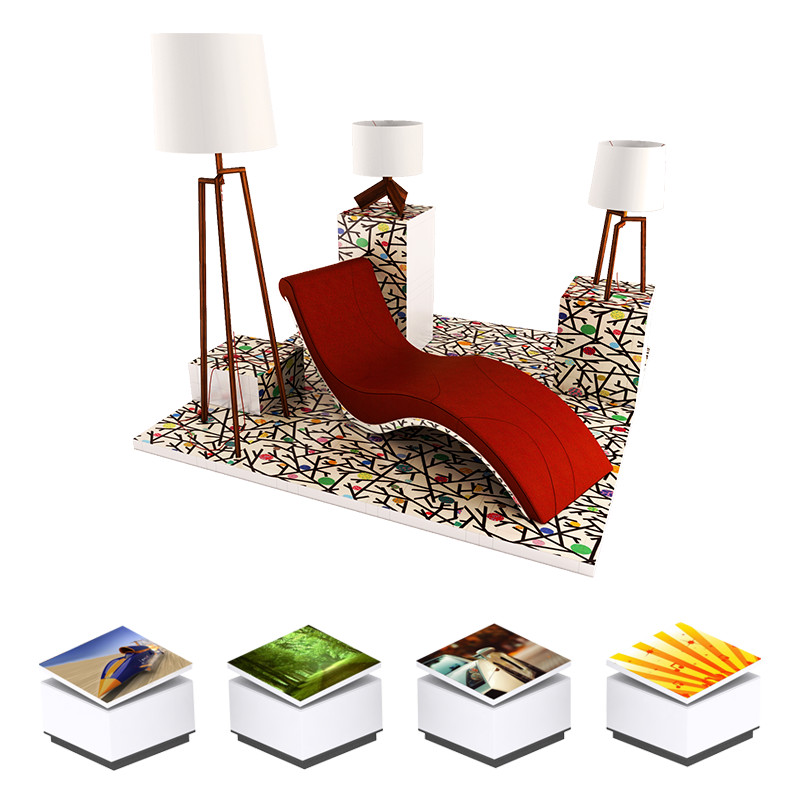 Fully Customisable
Customisation and versatility are at the core of the EasyCubes® system. Custom colours, textures and branding allows for versatility that no other system can match.
In addition to function and aesthetics, the simplicity of EasyCubes© makes building your display fun!
Combine cool textures and funky colours
Easily change your covers and skins
Cost-effectively refresh the way your products are presented
Create displays with a distinctive modern look and feel
Connect walls to make a display
Play, Change and Rearrange

User Friendly
No tools required
Very quick assembly, just 3 parts
Lightweight materials
Easy to dismantle, transport and store
Stand out
Get your product seen
Stage your products because unseen is untold!
Leave a lasting impresion
Highlight your brand in a quirky way
Reconfigurable
Reuse the same parts again and again
Combine into a variety of bundles
Customised flexibility
Design, customise and then redesign your display
Branding
Combine cool textures and funky colours
Include your brand logo or hashtag
Rebrand cost-effectively
Cube, cover and floor can be fully wrapped
Quality
Premium look and feel
Scratch resistant
Solid, durable materials built to last
All materials are waterproof making it easy to clean
Economical
100% recyclable
Maximum reusability guaranteed
3 x lighter than wood & metal, save on shipping
Minimal operating costs
Specifications
Cube: 40 x 40 x 20cm, 2kg
Floor: 40 x 40 x 5cm, 0.9kg
Cover: 40 x 40 x 1cm, 0.4kg
Technical
UL94 HB fire resistant
Water resistant
Material: High-impact polystyrene
Exceptional strength performance
Or call now on 01733 306308
3 Parts, Infinite Possibilities
Not only is it easy to assemble yourself, but you can also reconfigure it to almost any combination, meaning that it can fit virtually any exhibition stand space, showroom, shop window, conference or event space that you attend. This makes it a very cost effective solution.
Reconfigure to virtually any size and shape
Vary the heights of the displays for added interest
Split into multiple stands
Cubes and covers can be branded
Versatile | Perfect For:
The versatility of the system creates maximum value and return on investment as it enables you to utilise the system in a huge array of ways.  Re-use the system as is or split and reconfigure it into smaller units and use in multiple locations.
Shell scheme exhibition displays
Space only exhibition displays
Retail displays
Shopping centre kiosks
Flooring for brand activation
Counters or desks
Conference displays

EasyCubes© is so versatile that you'll never really need anything else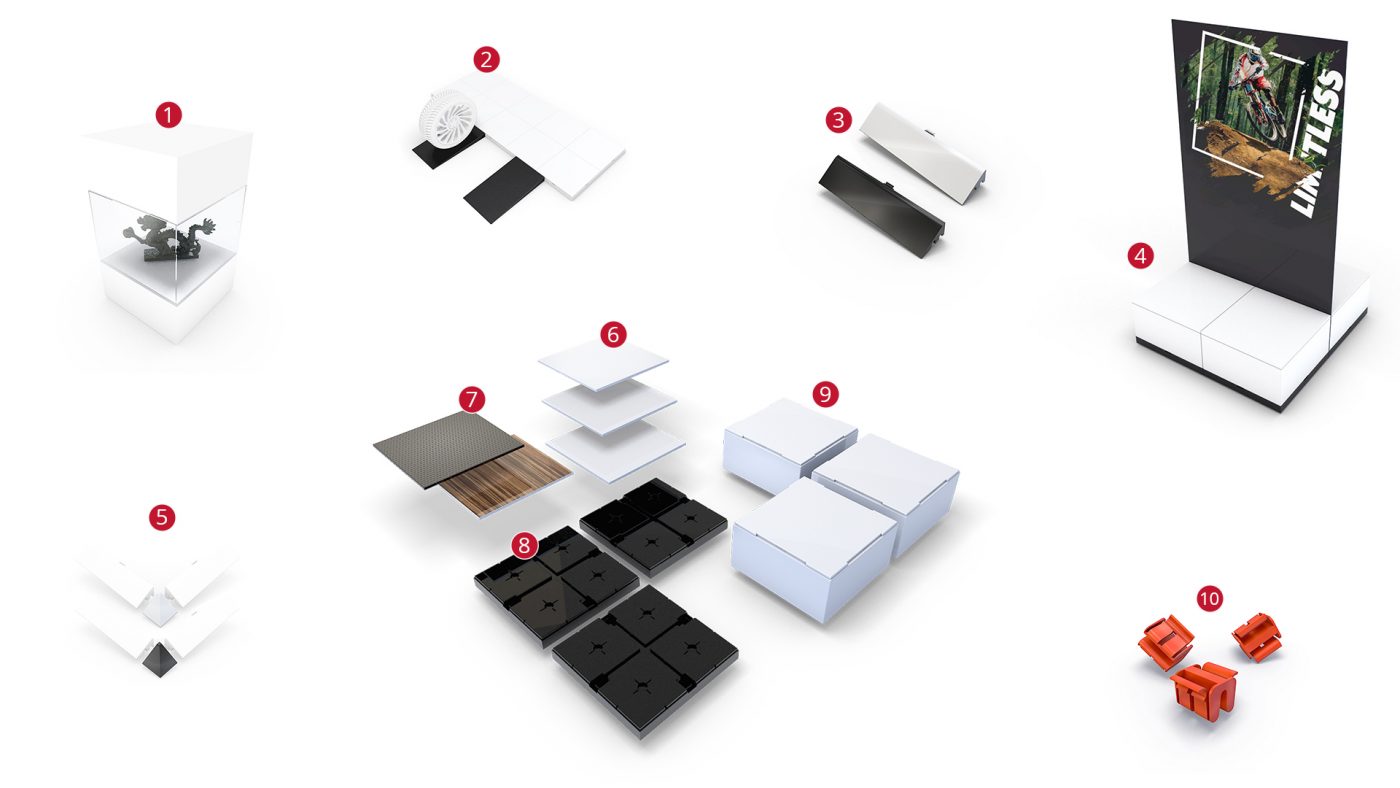 Acrylic cube 
Car drive on ramps
Ramps / Trim
Dibond walling 
Corner ramp
Cover 
Custom printed cover
Floor
Cube
Clips