Lightweight & Professional Displays
Innov8 Display's wide range of portable displays are effective for marketing in all sectors. From announcing a new product or service to increasing engagement within a workplace, portable displays can have a large effect with minimal effort.
5 Reasons to Use Portable Displays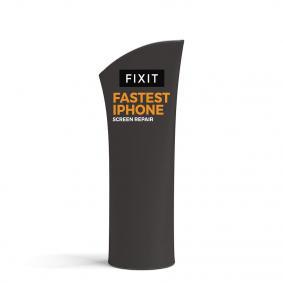 They are an easy way to present your brand to new audiences
Allows your portable exhibition display to stand out
Display your company and products in a way that accurately represents your brand
They are both lightweight and compact for ease of transport
Create a professional space for your company in any setting
Our range of fabric display stands has a diverse array of styles suitable for brands in all sectors. Innov8 Display's fabric portable booths are constructed of a single piece of fabric, meaning that they are as flawless as they are lightweight. All of Innov8's portable display boards utilise FabTex, setting them apart from traditional popup displays that are much heavier, have seams in view and are less eco friendly.
Fabric banner stands are the perfect option for portable marketing displays that need to be simple to move from place to place. Our fabric portable signage displays are lightweight and able to be installed by one person without the need of any tools. FabTex is the chosen fabric of our trade show portable booths, meaning that they are of the finest quality. 360 degree, merchandise and extra lightweight options available.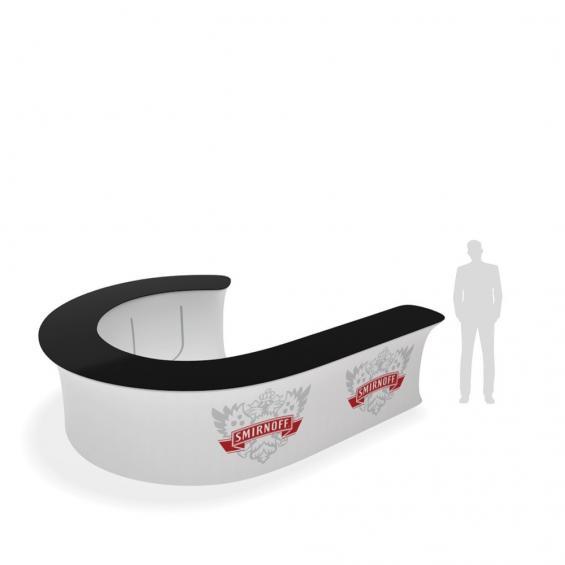 Innov8 Display's range of counters and information desks are very lightweight, able to be quickly disassembled and transported in compact carry bags. This portability is achieved through FabTex's aluminium tubes that come with intuitive push button connections. Our counters can engage a wide range of audiences, from hotel lobbies to promotional spaces.
Merchandise displays are an effective way to direct audiences to your products in a professional and unique way. Our lightweight and collapsible trade show displays are available in a range of sizes and shapes. This means that our exhibition stands can be used to effectively display any product. Utilising Innov8 Display's FabTex merchandise booths allows you to stand out to your audience from competitors at a low price and a high quality.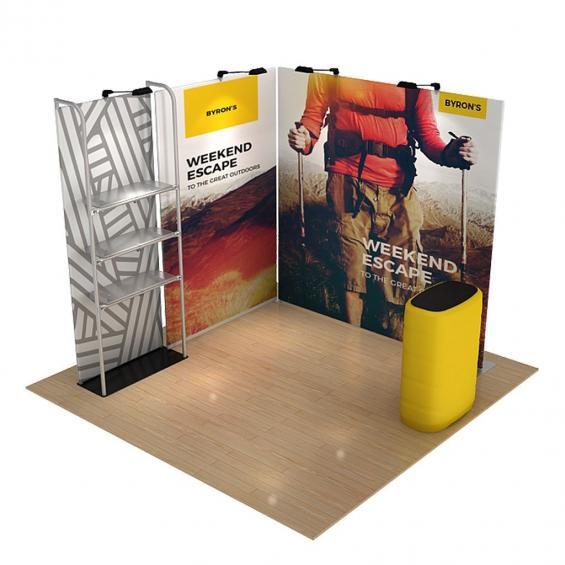 Hanging banners are perfect for raising brand awareness, regardless of setting. This trade show booth banner is especially useful for directing audiences to products or services in busy spaces. Innov8 Display's hanging banners are available in broad selection of shapes and all come with a lightweight canvas carry bag for ease of transport. Our hanging banners are simple to assemble, only requiring a 'pillow case' style graphic to be slid over the aluminium frame and zipped up.
The Innov8 Display Meeting Pod is a cost effective and creative way to have enclosed private meetings in larger spaces. Whether the meeting pod is intended to be a permanent feature within an office or a temporary one within an exhibition space, it is an eye catching setting for meetings. Assembly is achieved in less than ten minutes and its lightweight and compact frame allows it to be transported and stored without any hassle.
The details that go into your portable exhibition stand can be the difference that makes your company stand out to its audience. Utilising simple exhibition accessories can simply and effectively demonstrate your company's eye for detail and professionalism to its audience. Innov8 Display's exhibition accessories allow you to craft your space in accordance with your brand through simple and inexpensive methods.
Our illuminated displays are brilliant for bringing vibrancy to your products or services whilst being easier to set up than more traditional pop up displays. This form of portable digital signage allows your graphics to pop through their customisable LED lighting and sleek design. These illuminated exhibition stands come in a range of styles and sizes that can be utilised in any industry or setting.